The Tabakfabrik provides many possibilities for organizing events in a unique environment. Be it an exhibition, concert, theater production, artistic intervention or company celebrations, the spacious premises of the Tabakfabrik offer different rooms to accommodate different functions. The Tabakfabrik team is happy to assist you in organizing your event and offer solutions for technical or organizational issues.
All event requests addressed to the Tabakfabrik will be checked for compatibility with the principles and vision of the Tabakfabrik. For this reason, we also reserve the right to turn down events which seem not to be in accordance with the values of the Tabakfabrik.
If you are interested in holding an event in the Tabakfabrik, please first download the events checklist, fill it in and return it to our events manager Chris Sennlaub. Before signing a contract, companies should attach a copy of their company registration, associations should attach a copy of the association registration, and a copy of the personal identity document of the authorized signatory is to be provided in all cases. The legal provisions of the Event Safety Regulations of Upper Austria apply to all events.
The respective rates are set as the daily rate for the actual use of the relevant spaces. Discounts are given for the period of setting up and dismantling the equipment for the event. The rates are listed as net amounts, VAT will be calculated in addition. Other costs that may be incurred during the events, for instance water, electricity, heating, will be billed separately. Various additional costs for technical installations, seats, tables, security services, technical services, cleaning, etc. will be billed separately as well, unless the respective user provides these on their own. These rates do not apply to large commercial or cultural events. Upon request, we are happy to submit an offer, depending on the kind of event.
Rates
All rates are listed as net amounts!
For VAT-registered people and companies, a 20% value added tax will be added.
For those who are not VAT-registered, the rate will be increased by 20%, equivalent to the VAT.
Any other spaces upon request. Rates valid from 1.4.2014
Staff Rates & Additional Rates
All rates per hour and as net amounts.
Pixel meets Tabakfabrik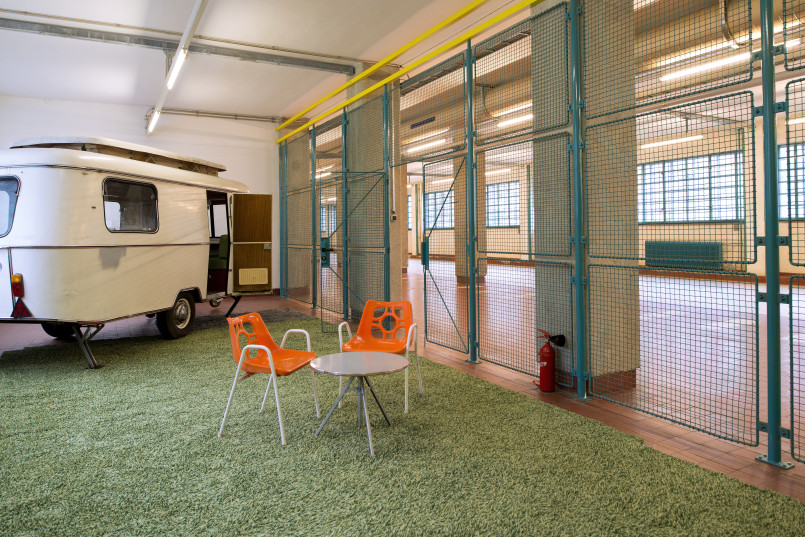 In Bau 1 ("Columned Hall"), Stiege A, a 70 m² space incl. bus can be booked for meetings.
PIXEL meets Tabakfabrik
whole day (7.00 AM to 17.00 PM)
70 m2

 200 €

100 €

30 €

half day  (7.00 AM to 17.00 PM)

 150 €

75 €

 30 €
Contact Pixelmeeting:
Christa Modera
christa.modera@tfl.linz.at
+43 664 / 88 68 38 08
Header Photo: Florian Voggeneder
Photo: Archipicture